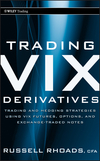 EDIT: see my book review
here
. Just came across this:
Trading VIX Derivatives: Trading and Hedging Strategies Using VIX Futures, Options, and Exchange Traded Notes
by Russell Rhoads
is set to come out in September. This is afaik the first book that is dedicated to VIX derivatives. The table of contents is available
here
. Looks like the first half of the book covers the basics like the historical background on implied volatility, the VIX, other volatility indexes, volatility strategy indexes, VIX derivatives, VIX-based ETFs and and their specs. The second part of the book seems to have all the good stuff: hedging equity portfolios with VIX derivatives, speculating with VIX derivatives, and 3 chapters on different calendar spreads (a topic that I'm particularly interested in), and 2 chapters on verticals. Overall the book looks like an good read, and I will definitely review it again when I get a copy.